Written by
Vard Sargsyan
2 min read
5 ways to adapt your software to remote workers
This past Friday, I logged into a Zoom call and was immediately greeted by a group of my laughing coworkers. The sight of familiar faces filled my thirteen-inch screen, and a wave of comfort washed over me. We were having a digital fika, which means "a coffee and cake break" in Swedish. Some opt to swap the coffee for pinot because we are living in different timezones.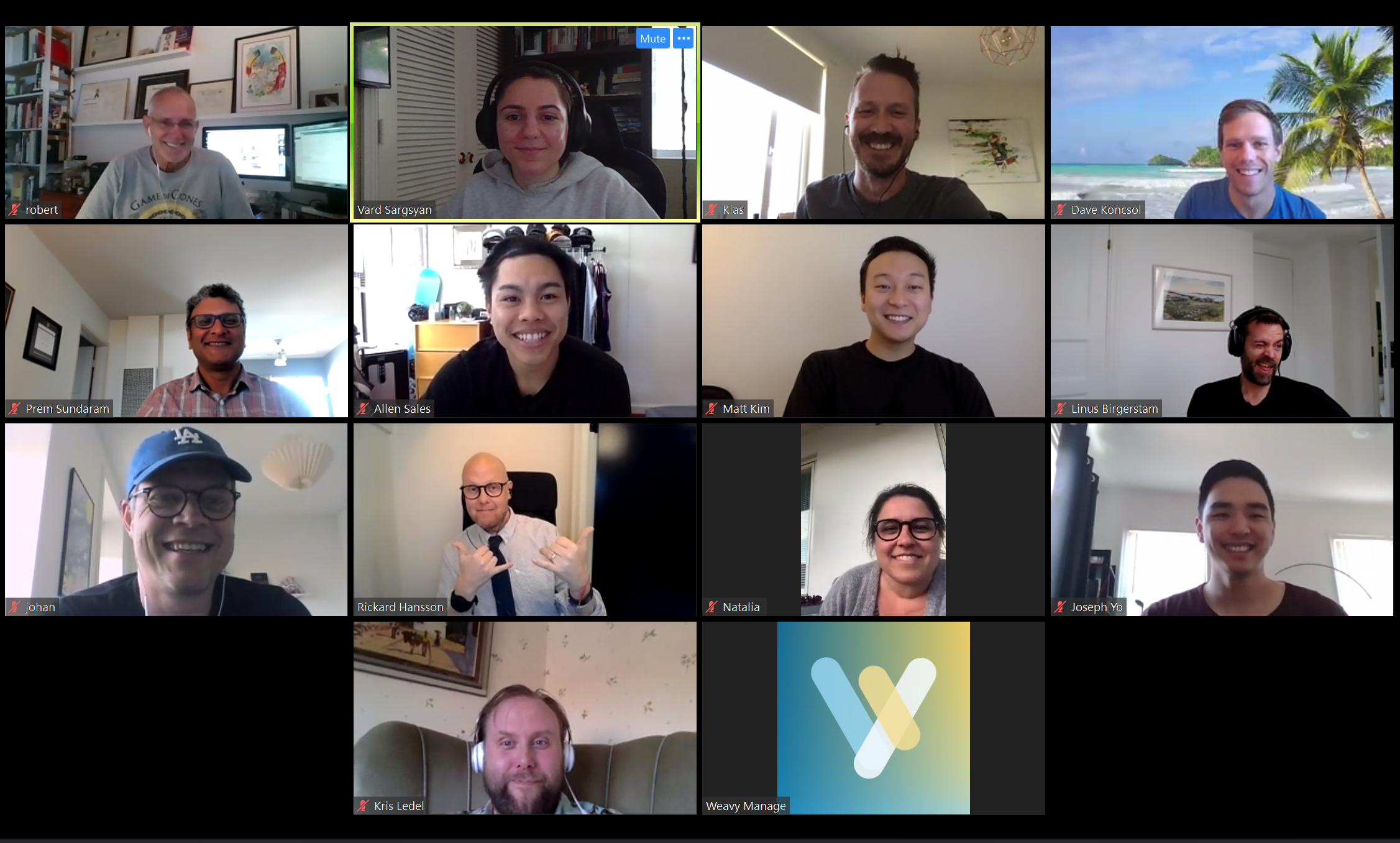 The <weavy/> team does social distancing
It is nice to see people in their own homes. The panic on an innocent child's face when he walks in on his dad's meeting or seeing your coworker in the same sweater for the third day in a row are priceless moments all the same.
My team is no stranger to these types of meetings. Our team has always been distributed across two continents. Now that we are exclusively working remotely, our process in place remains strong.
However, we know this is not the case for most teams who have transitioned to this work environment in the past year. This is a huge change and these teams need the support and the usability of the familiar SaaS applications they have been using until now.
With the rapid transition to remote work, Microsoft CEO Satya Nadella predicted there will be a
"fundamental structural change in how we transcend some of these geographic boundaries as a result of the crisis."
To enable a potentially sustained burst of utilization, your allocation of resources and effort might need a quick and hard pivot.
So, if you are starting to see lists of software that can help promote and sustain remote work, and you would like to see your SaaS on that list next time, here is how to set yourself up for success.
1. Offer a Free Version
Follow the lead of successful platforms and offer a free version of your software if you do not already do so. Microsoft, Google, Zoho, Atlassian, Zoom and more have begun to offer free tools. This will attract initial traction, and with the right value proposition, these users will become customers in the future.
2. Supercharge Customer Success
Enable your customer success team to execute quick and easy turnarounds. Your employees who care and take care of your customers are your company's greatest asset. Have your customer success team ready on-demand to help your end-users resolve issues and get questions answered quickly. They will be needing extra help nowadays.
3. Host a Webinar
Nobody knows your software better than you do. Schedule an educational webinar once a week to share best practices and how to optimize your platform. You can use this time to highlight specific features or capabilities that do not get the recognition they deserve.
4. Show Data
Add visual data to your platform to allow for visibility. This does not have to be anything fancy. There are hundreds of amazing data tools that do the dirty work for you and allow you to present charts and dashboards natively and seamlessly within your application. A few of our favorites are Keen, DataBox, and Logi Analytics.
5. Allow for Collaboration
Add collaboration to your platform to ease communication and allow for conversations that fuel actionable insights. This one is the most important for supporting existing customers. Your customers may be on Slack or using third-party tools, but right now they need context.
While the phrase on everyone's lips has been "unprecedented times," we know that us guys in tech and software are best positioned to adapt. By making some quick, smart changes, you can help your users continue to do their best work - even under new and changing conditions.
Want to learn about how <weavy/> can help you adapt to the times, and add contextual collaboration features to your already stellar app?