We're no stranger to Chat APIs. There are several great providers on the market and more are joining the fray every day. For product managers this is both a blessing and a curse: more options than ever, but more choices to consider. Weavy we've spent a lot of time researching the competition, and in this series we're sharing what we've learned to help you make the right decision for your product.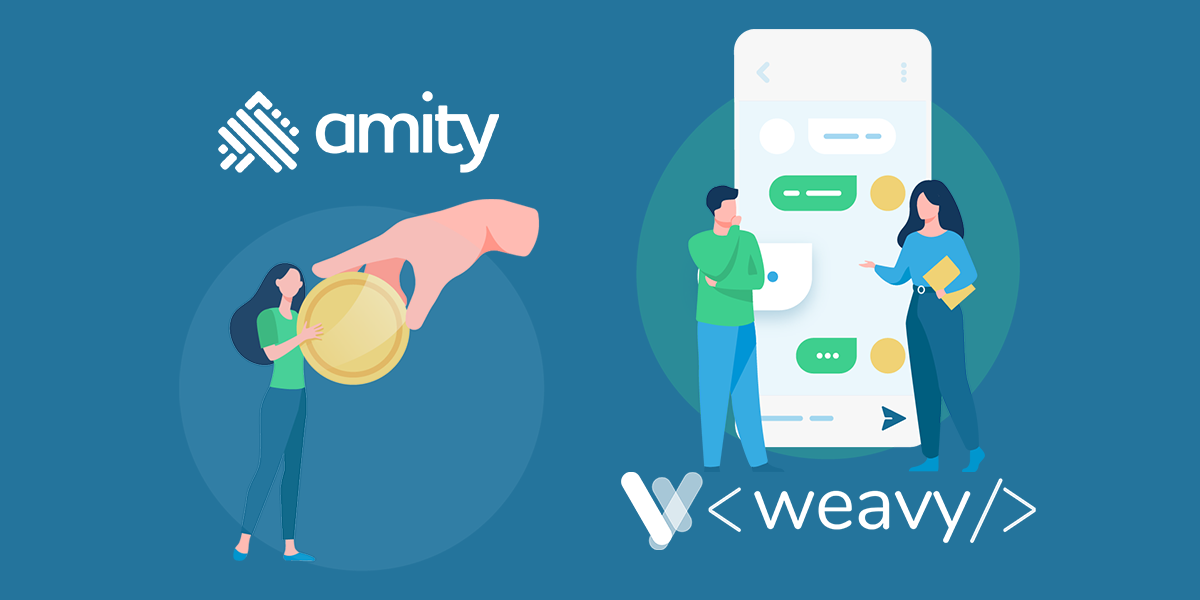 Amity at a glance
A new entrant on the scene, Amity sets themselves apart from the pack in their messaging and their pricing strategy. Regardless, their offering is a familiar one: Amity gives product teams an easy way to add in-app chat and social features to their app utilizing a Rest API that connects to Amity's servers.
Amity operates similarly to Amity competitors PubNub, Stream and Sendbird, where they provide subscribers with access and documentation for their APIs, while charging for hosting and support fees. Amity takes a different tack by emphasizing the myriad ways their features can be configured and structured on the front-end to provide different use cases. However robust they are in UI, Amity still doesn't let subscribers host their own Chat SDK, meaning that there's zero opportunity for skilled developers to expand back-end functionality.
Amity's Features
Though Amity certainly leans hardest on in-app chat as their signature feature, they have positioned themselves as a community services provider with heavy emphasis on helping add more social network style features. In keeping with this branding, they offer a few types of services:
Amity Features:
Chat
Social (Activity feeds and User profiles)
Video (live streaming and video hosting)



How Amity's features compare
First, a quick breakdown of the features of Amity competitors.
PubNub Features:
In-app Chat
App alerts and notifications
Location tracking
Virtual collaboration
IoT (Internet of Things) device management
Data streaming and dashboards
Stream Features:
Sendbird Features:
Chat
Calls
Virtual customer support
Weavy Features:
Chat API
Feeds API
Files API
Amity's alternatives each take a different approach to their feature offering. Sendbird desires to position themselves as the all-in-one communication platform, offering robust frontend support for chat, video calling, and customer support. Stream focuses on creating a seamless experience through UI and infrastructure. PubNub offers a wide variety of data streaming and processing services without any clear focus on target customers other than "enterprise." Weavy is focused on productivity and collaboration.
Take one glance at Amity's website and it's clear what they're focused on: community and social. Taken as a whole, Amity's feature offering clearly points in the direction of allowing app developers to get a fully functional social network like environment running within their app. While their chat is very much in line with the competition, their "Social" feature takes common features like activity feeds and user profiles and reconfigures them to resemble popular social networks like Facebook and LinkedIn. Their "Video" offering has nothing by ways of video communication, instead chasing a more Instagram-like live streaming and simple video hosting capabilities like TikTok or the dearly departed Vine.
Like all their competitors, Amity has done the work to support developers through thorough documentation and UI kits. One place where Amity has gone above and beyond, and absolutely in keeping with their focus on social and community, is that they maintain and manage a robust developer community. Via the community message board, developers can ask questions, troubleshoot integrations or even show off their work.
By comparison, Amity competitors Stream and PubNub offer little to know community engagement in the same way, potentially making it harder for devs who have questions outside what is covered in the documentation. The Amity alternative that best matches their level of community support is Weavy, who maintains a thriving community through Discord and regular hackathons.
Amity pricing
Similar to Amity's alternatives, Amity operates on a multi-tiered pricing structure covering a spread of service tiers, with their cheapest offering only chat and their most expensive offering every feature. What Amity does incredibly differently is that they charge a few cents per Monthly Active User (MAU) per month. How many cents they charge determines the level of functionality your monthly fee.
Amity Prices:
Basic (Chat Only)
$0.06/MAU for up to 100 connections
Advanced (All Features)
$0.09/MAU for up to 1000 connections
Max (All Features + HD video)
$0.14/MAU for up to 5000 connections.
How Amity's pricing compares
First, a quick breakdown of the price structure of Amity alternatives.
PubNub Starter Prices:
$49/month for up to 1,500 users
$249/month for up to 5,000 users
$499/month for up to 10,000 users
Sendbird Prices:
Developer Chat
Free for up to 100 users
Starter Chat
$399/month for up to 5,000 users
$499/month for up to 10,000 users
$1199/month for up to 25,000 users

Pro Chat
$599/month for up to 5,000 users
$749/month for up to 10,000 users
$1799/month for up to 25,000 users
Video Calls
Pay Per Call
Help Desk
Enterprise Pricing
Stream Prices:
Chat
$499/month for up to 10,000 users
$1299/month for up to 25,000 users
$2299/month for up to 50,000 users
Activity Feeds
$59/month for 400k API Calls
$269/month for 2M API Calls
$899/month for 10M API Calls
Weavy Prices:
Chat
Free for unlimited monthly engaged users and API calls
Chat Pro
$0.09 per MEU each month
Compared to Amity alternatives Sendbird, Stream and Pubnub, Amity's pricing is very different. On paper, this pricing seems incredibly friendly to scalability: you never have to worry about exceeding your MAUs because each additional user only costs between $0.06 and $0.14. However that hardly means you're free of overages. Each pricing tier of Amity has a hard limitation on how many concurrent connections can be made at one time. To be clear: this limit is not on the number of users, the same user connected via a web browser and a phone app will be counted as two connections. Exceeding these connection limits will incur overage charges that, while not steep, will add up over time. This also means you need to have very accurate analytics and projections to properly budget for an Amity subscription.
The clear standout by a wide margin is Weavy. Weavy's Chat API, Feeds API, and Files API are available at both a free and a pro level. The free version gives developers access to all the core functionality necessary to have in-app direct messages and group chats. The pro level, priced at $0.09 per MEU, gives additional functionality such as read receipts, typing indicators, and integrations to third party services like Google Drive, Dropbox, Microsoft Teams, and Zoom. Regardless, Weavy never puts limits on concurrent users.
Is Amity the best fit for your product?
If you're building a social focused platform that requires heavy front-end customization and more bandwidth intensive features like live HD video streaming, Amity is a strong option. Amity competitors Sendbird, Stream, and PubNub offer a similar suite of features, but each plays to different segments of the market, with PubNub focused on enterprise and Stream leaning heavily into mobile-first applications.
If your product team is interested in adding collaboration features to your platform, Amity's offering is poorly suited for the job. Like Amity, Weavy offers Activity Feeds and In-App Chat, but has configured them with productivity in mind through heavily integration with third-party services used by most businesses today. Additionally, it's important to note that Amity has no way of allowing users to store and securely share files outside of simple media like images, videos, and gifs.If your team is exploring any type of Document Collaboration, Weavy is the strongest choice.