Files APIs have become an emerging segment in low-code API space. With most productivity infrastructure and many companies becoming cloud first for file storage, it was only a matter of time before there would be demand for in-app file management. But because this is a new space, there are a lot of different options, and they all take a different approach to files integration. One of the most popular in this space is Filestack.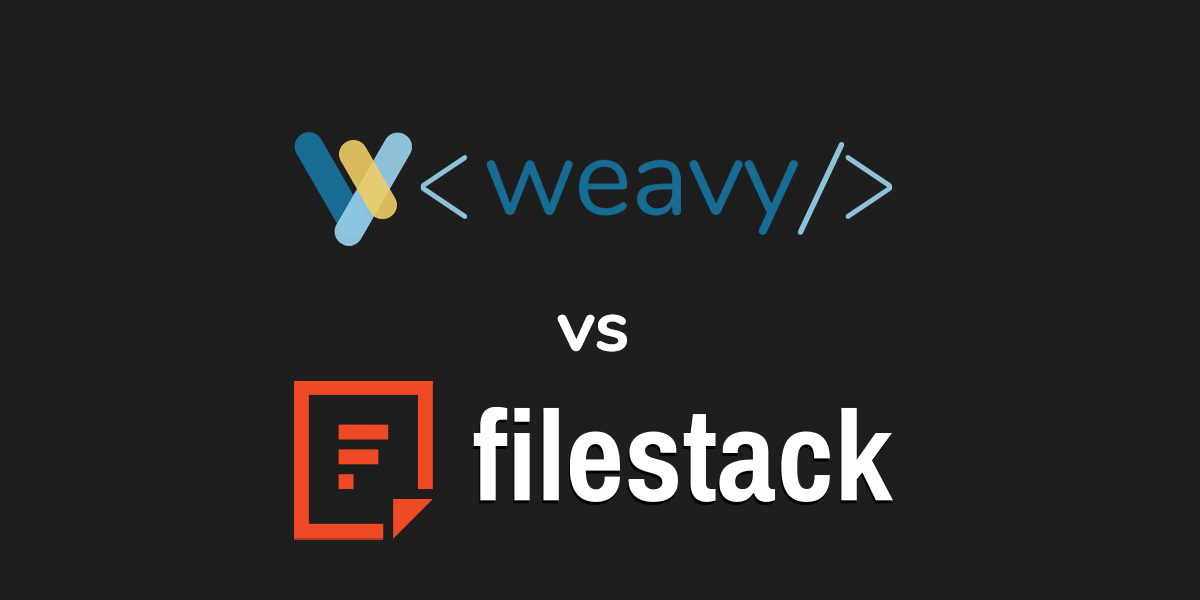 Filestack at a glance
Filestack fundamentally functions as the combination of two distinct but interdependent offerings: as an Infrastructure as a Service (IaaS) company and as an API vendor. It's an intuitive approach, through the API their services can be surfaced in-app to end users, while all the file handling is passed through to their network. This means (unless users are hooking the API up to their cloud servers) that Filestack maintains complete end-to-end control of the files.
Filestack operates similarly to Filestack competitor Transloadit where they provide subscribers with access and documentation for their APIs, while charging for metered access to their services and customer support. Filestack differs, however, in how it meters usage: via a combination of monthly bandwidth and an overall upper limit on storage space. One place where Filestack falls behind is by limiting white-label support to their most expensive tier, meaning companies will have to pay the maximum for a bespoke option.
Filestack's Features
Though Filestack leans heavily on its filestack uploader and delivery functions, their structure as an IaaS company allows them more flexibility to offer more complex file handling features.
Filestack Features:
File uploader
Drag and Drop interface
Download links
File conversion
Image file extensions
Machine Learning features
How Filestack's features compare
First, a quick breakdown of the features of Filestack's competitors.
Transloadit Features:
File uploader
File exporter
File conversion
Machine Learning features
Basic image and video editing
Uppy Features:
File uploader
Drag and drop interface
Weavy Files API Features:
File uploader
File versioning
File previews
Document sync
Third-party integrations
Filestack's alternatives have different approaches to their feature offering. Uppy, owing to its scrappy, open source nature, is focused solely on providing a way for developers to add file uploading to their app, at the expense of any options for infrastructure or integration. Transloadit has features more comparable to Filestacks, but are much more focused on offering creative applications such as image and video editing, file compression, and automated organization. Weavy Files API is focused on productivity and collaboration, offering features that not only support office oriented file management tasks, but also help users digitize their workflow and move their file management online.
Filestack's primary motivation appears to be providing a seamless user to user file experience, which they achieve using two things: infrastructure and UI. Every time a user interacts with these features, an API call connects the app user to Filestack's content delivery network (CDN). While the file is stored within the CDN, it affords users options to modify or "transform" the documents in a number of ways developed by Filestack.
While this focus on transformations provides some cool options for end users, it also creates a confused offering of disparate and unconnected features. In this way it gives Filestack a "make your usecase" air about it, which is great if you want a very custom option, but could be a hindrance if you just want to quickly get file support working in your app. Competitors like Uppy, and Weavy have no confusion about the primary problems their features exist to address, making them both a more set it and forget it solution that has customization options should your team want them.
Filestack pricing
Similar to Filesstack's alternatives, Filestack operates on a tiered pricing structure that corresponds to usage limitations. The biggest differentiator is the level of granularity of limits per pricing tier.
Filestack Prices:
Free for up to 5gb/month, 1gb of storage, 500 uploads, and 1000 transformations
$59/month for up to 50gb/month, 20gb of storage, 10,000 uploads, and 25,000 transformations
$199/month for up to 200gb/month, 150gb of storage, 50,000 uploads, and 250,000 transformations
$359/mont for up to 400gb, 350gb of storage, 125,000 uploads, and 300,000 transformations
How Filestack's pricing compares
First, a quick breakdown of the price structure of Filestack alternatives.
Transloadit Prices:
$49/month for up to 30gb/month
$99/month for up to 70gb/month
$249/month for up to 200gb/month
Uppy Prices:
Free
Weavy Prices:
Files
Free for unlimited monthly engaged users and API calls
Files Pro
$0.09 per MEU each month
Compared to Filestack alternatives Weavy and Transloadit, Filestack's pricing differs greatly in price points. One place where they are all similar is in having a tiered pricing structure, however each company chooses different metrics upon which to base their pricing. Weavy takes the simplest approach by only charging by the number of active users an app services, while Transloadit focuses on how much bandwidth passes through their servers monthly.
Filestack is by far the most complicated of the three. Not only do they charge based on how much bandwidth is utilized each month, they also impose limits on the total storage an app can have, with no options for increasing storage capacity beyond moving up to another price and bandwidth tier. Filestack also limits crucial features such as white-label functionality and file previews to their more expensive pricing tiers.
Is Filestack the best fit for your product?
If you're building an internal app for a large organization or you are incredibly accurate in your projections or you have a very specific use case already in mind, then Filestack is a good choice that provides a lot of great fringe features. However the lack of flexibility and the limited features at the lowest tiers may be enough reason to give your organization pause.
But when your product team is interested in adding a productivity focused suite of file handling features to your platform Weavy provides a focused, streamlined offering that is priced to scale with your app's growth, not hinder it with complicated limitations.