Last year we announced Weavy X, a new generation of the Weavy API rewritten from the ground up to give developers the best possible toolset to add communication, collaboration, and community to their applications. Once we were done streamlining how our products work, we turned our attention to streamlining how we work. Today we're proud to announce that everything is about to change for the better.
A fresh coat of paint
As you may have already noticed, we at Weavy felt it was time to update our branding to better reflect the principles of our company. As a developer led and driven team, we've long been aware of the benefits of dark mode, especially when working with code. Not only does it just look neat, but it greatly helps reduce eye strain and fatigue. For our new logo and website we took inspiration from our favorite dark modes in the hope that Weavy can, in every sense of the phrase, be easier on the eyes for the developers who work with us every day.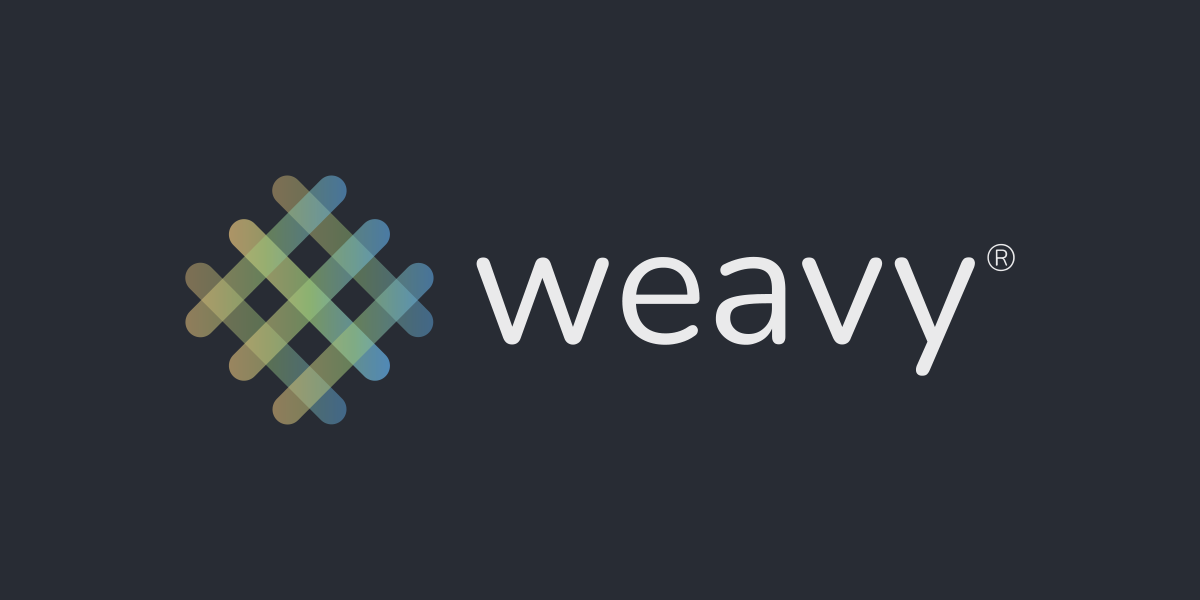 You may have already noticed that our logo incorporates three colors: blue, yellow, and green. These colors now represent our three core products: Chat, Files, and Feeds. We knew it was long overdue to give each of our products a unique identity befitting of their robust and individual feature sets. So we've given them each their own logo.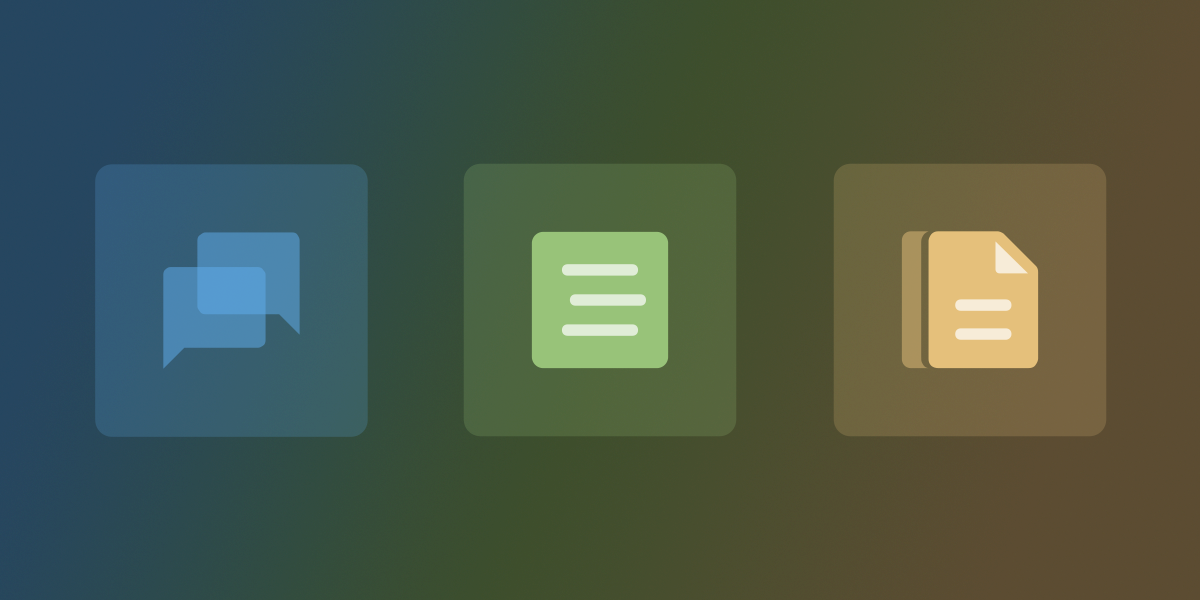 Situs Inversus
We felt there was a lot we could do to give our customers old and new the best possible experience. The first step to streamlining the entire process of working with Weavy was to overhaul our website. That meant inverting everything about our previous approach to our site. Going forward, each of our product sites have their own dedicated navigation so that users can find the information they need about a product as quickly as possible.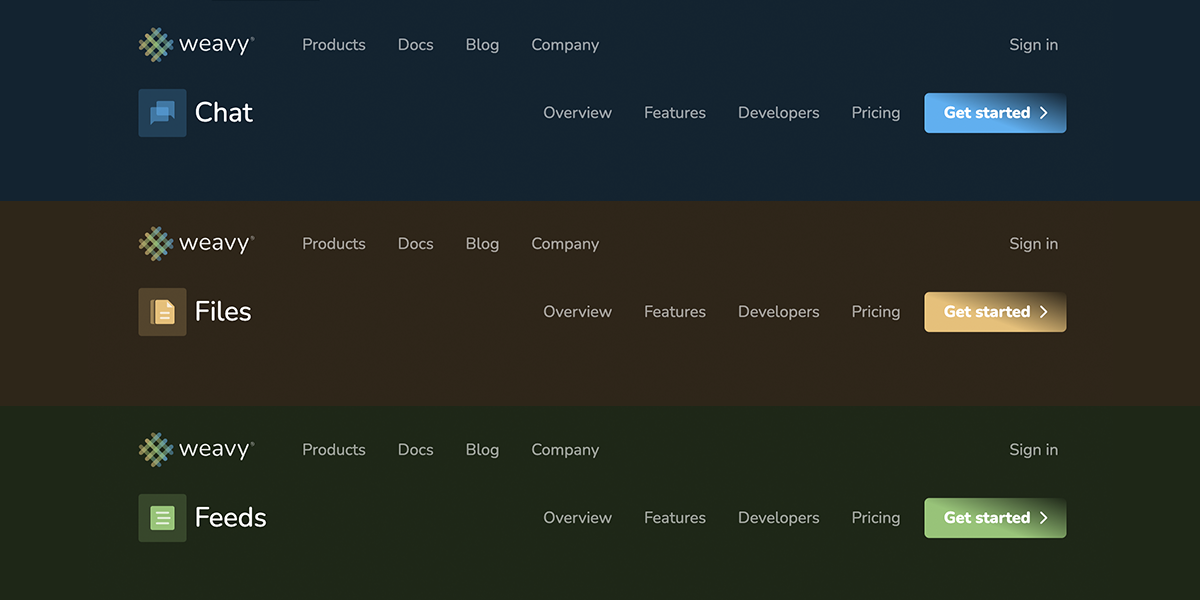 Speaking of fast, we also decided to rebuild our site so things would load fast. Really fast, ludicrously fast. We know how much of a pain it is to wait for a page to finish loading, which is why our new site is designed to load all the elements you need only when you need them, optimized specifically for your browser window. Whether you've got a 10 gigabit connection or are still rocking a 3G phone, you'll find that our new site is as fast and performant as our API.
All in on à la carte
Up until now the only product we've offered as a standalone was our Chat, that meant that in order to get access to our Files and Feeds products, you had to subscribe to one of our bundles. At the time we believed that our products were best experienced all together, but after months of feedback and internal conversations we came to understand that the majority of developers prefer to pick and choose the products that are best for their app. It makes sense - you only want what you need.
So, starting today, when someone signs up for a Weavy account they have the option of picking Chat, Files, Feeds, or any combination thereof. Best of all, none of these choices are set in stone. Developers have the option of enabling and disabling access to any of our products from our brand new account page. The new account page also gives access to extended functionality, such as the ability to generate new API keys, deploy new environments for development or staging, and assigning individual users access to specific products.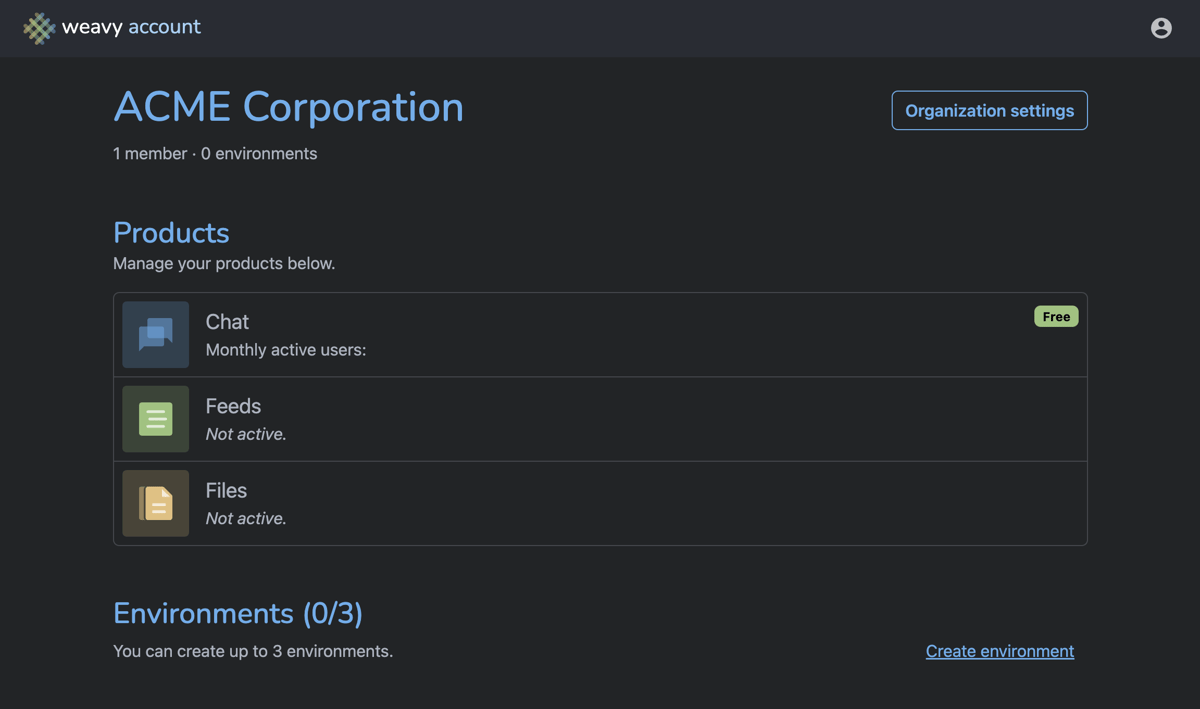 On the topic of environments, every Weavy account will come with three free Basic environments. Each basic environment comes with 2GB of free storage and is ideal for configuring your DevOps CI/CD pipeline, with development, testing, and production. For developers who require more storage or priority bandwidth, any Basic environment can be upgraded to a Standard environment for $299/month. Standard environments come with 250GB of storage per environment.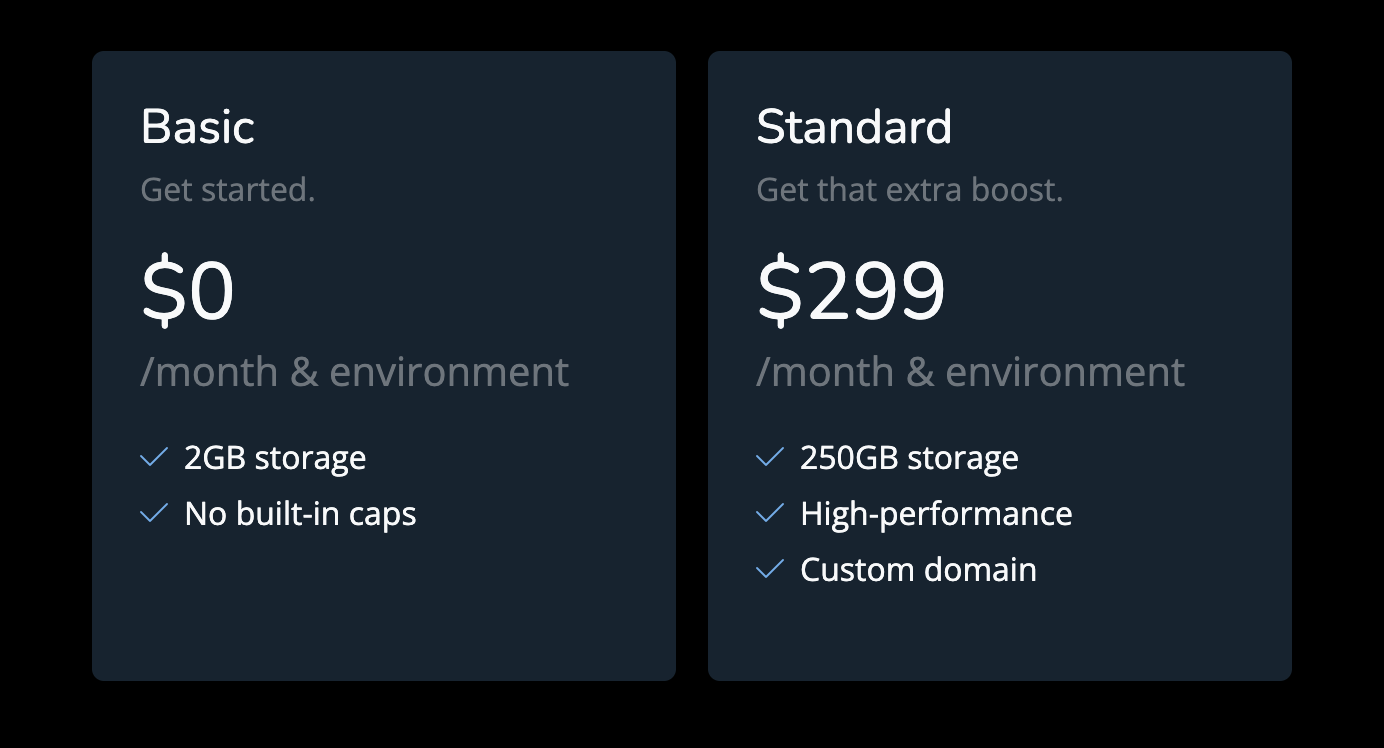 We also understand that the needs of any two developers are incredibly specific. That's why we allow developers to mix and match the Free and Pro versions of our products, as well as any configuration of Basic and Standard environments, with the option to upgrade or downgrade each at any time. This way they pay only for the functionality they need.
Priced to move
18 months ago we took the bold step of making Chat, our most popular product, available for free. We were pretty fond of the price point, and our users seemed to agree. That's why we're tripling down and making Files and Feeds free as well, with the same perks like unlimited users and unlimited API calls. We plan to speak more about this decision in the coming weeks, and we hope this small change will help developers supercharge their roadmap and remain competitive.
While we believe our free plans gives unparalleled functionality for each of our products, we also cannot stress enough that we believe developers will get the most out of our products by utilizing our new Pro plans. With the Pro plans, developers will get access to customer support, priority bandwidth, and additional features like third party integrations and quality of life enhancements. In order to keep accountants happy, our pro plan starts at a simple monthly cost: $0.09.
More specifically, for each product developers activate, they'll be charged $0.09 USD for each of their monthly engaged users. We debated over a number of different ways to charge, including by seat and by metered usage, but we believe this is the most fair. In short it works like this: every 30 day period we tabulate the total number of users who actively utilized our API and bill for them.
Now charging by number of monthly active users is no new feat, many other providers do this. Where we differ is what we believe constitutes an active user. For us an active user is one who takes actions such as sending a message, uploading or downloading a file, or reacting to a post. A user who opens an app, reads a few things and closes it is a passive user, and we don't think it's fair to charge our customers for them. Hence why we use the term monthly engaged user.
Unlike other API providers, we still refuse to put a cap on concurrent users, so developers won't have to worry about steep overages for high usage days.
Of course, we're well aware that some developers will grow their user base to a point where $0.49 per monthly active user no longer makes sense. For them, and for developers who require specialty configurations, including self hosting, we offer custom flat rate plans. We consider custom plans to be an enterprise level offerings with white glove service, and interested parties are encouraged to reach out to a member of our account team.
We still have a lot more news in store for the coming weeks and months. But in the meantime we can't wait for developers to explore the new Weavy experience.