Written by
Weavy Team
1 min read
Striking Balance, a new hackathon by Weavy and Grapecity Wijmo
For the past several years, our community team has hosted annual hackathons. In 2020, we hosted our first online hackathon, in 2021 we took on a global perspective and launched a worldwide hackathon, Build Tomorrow, that attracted over 1,400 registered developers. This year the team at Weavy is partnering with our friends at GrapeCity to co-host our most ambitious hackathon yet, launching June 23, 2022.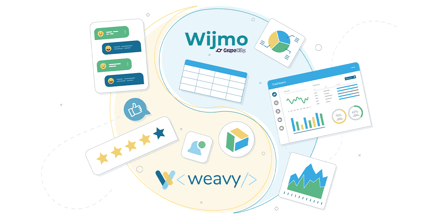 Striking Balance, with Weavy and Wijmo
It's now estimated that over 2.5 Trillion terabytes of data are generated every day. We have more information about our world than many could have ever imagined. This information could be used to tackle some of the greatest issues of our time, but unfortunately it comes from disparate sources and mostly exists siloed off. But what if they didn't have to be? Systems thinking is a holistic approach to data analysis that takes into account different sources of data and how they inter-relate to solve complex and systemic problems.
Inspired by systems thinking methodology, we want you to use Weavy, our collaboration API, and Wijmo, GrapeCity's UI and data visualization components to build an implementation that allows people to work together and visualize the relationship between complex datasets. Our goal is that you and your fellow team members can take data with different focuses and combine them to create a new way of addressing some of today's biggest issues.
That's the what and why, the how is up to you. Pick one topic that you're passionate about, or mix and match datasets from a few topics to reveal new insights about the world around us. We don't want to limit your scope, but here's just a short list of potential themes:
Health & Fitness
Education
Urban Development
Business Growth
Research
Entertainment & Tourism
To help we'll be providing you and your team with robust, verified, publicly available datasets to use with your implementation.
About Wijmo
Wijmo, by GrapeCity, allows developers to build better applications with fast, flexible UI components. Requiring zero dependencies, Wijmo sports FlexGrid, the best JavaScript datagrid in the industry, offers 80+ different chart types, an extensive list of features, and easily extendable controls. Check out what's new with Wijmo and experience the most comprehensive Angular UI component library available.
About Weavy
The in-app collaboration API & SDK. Enable your users to engage each other to make faster, better decisions through contextual collaboration using in-app chat, activity feeds, and document collaboration. Weavy allows you to add collaboration features in minutes using their low-code backend tool.