Written by
Weavy Team
1 min read
Weavy wins Best Support and five other awards from G2
It's an exciting time for the team at Weavy: we've released the most significant update to our platform, we've completely overhauled our authentication system, and we are also a G2 High Performer for our third quarter in a row.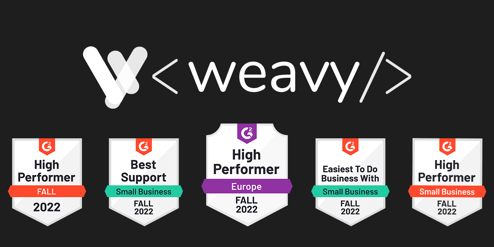 Today G2 has announced that we've earned our place as a Fall 2022 High Performer in the following categories: Small-Business Communication Platform as a Service (cPaaS) Platforms, Application Development Platforms and Communication Platforms as a Service. We've also received High Performer marks in the Small Business and European Business categories.
The High Performer Award recognizes companies that have high customer satisfaction ratings relative to their market presence. To win the Fall 2022 High Performer awards, Weavy received enough high-rated user reviews to rank in the Top 30 companies in each respective category.
We have also, for the second quarter in a row, received the Best Support and Easiest To Do Business With awards in the Small Business category. Overall we've ranked in the top 10 in our categories for ease of implementation, usability, and customer relationships. Our goal has been to provide the best value for our developer community and world class support, which we've worked hard to improve with the introduction of our accelerator services.

These honors join our Spring and Summer 2022 High Performer Awards, as well as our Summer 2022 Awards for Best Support and Easiest Companies to do business with. They also join our accolades from SourceForge from Fall 2021 and Winter 2022.
We've been overwhelmed by the positive feedback we've received on G2 over the last year. In the last 6 months alone we've received 11 additional positive reviews giving us an average review score of 4.7 out of 5 stars, and of the 32 reviews we've received 27 have been 5 stars. Here are just a few excerpts:
"We can add these features that are essential for our users, without taking any resources away from our core product team – so we can deliver on our roadmap promises." - Martin B.
"We've been using Weavy now for a couple of projects, and it helps us to focus on building what matters most for our clients while delivering on the features their users expect like chat, mentions, notifications, and more." - Alexander L.
If you'd like to read some of our reviews, or leave one of your own, please visit our G2 page here.