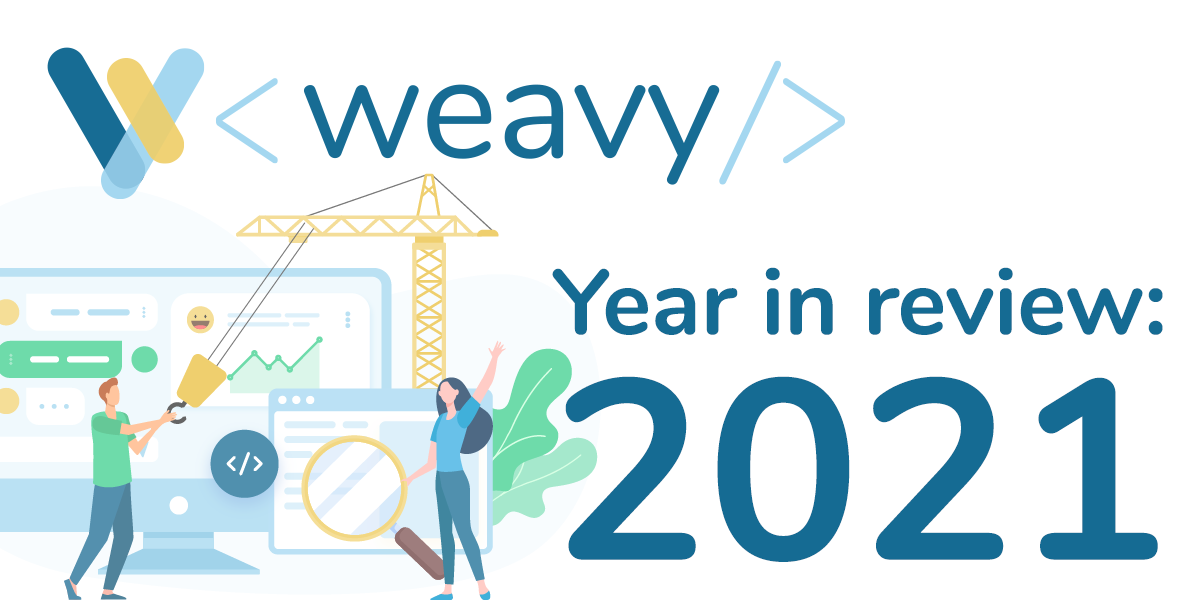 As the follow-up to 2020, the stakes for 2021 were admittedly pretty low. As this year draws to a close, one thing we can all agree about 2021 is that it happened. Though a lot has transpired in the previous year in the industry writ large, we at Weavy want to take a moment and highlight some of the biggest moments we had last year.
In-app Chat is free
In September our founder and CEO Rickard Hansson announced that in-app chat, our most popular feature, was being made completely free. As Rickard said:
"With market demands for these features at an all-time high, Chat API providers hold all the cards, which could spell doom for small businesses looking to gain a footing in the app marketplace.
This hasn't sat well with me. I want to make a difference.
Our mission has always been to empower developers through our suite of collaboration features, and now one of those features has become so essential that it can't be stuck behind a paywall any longer."

But we didn't stop at changing our pricing structure. To make the Weavy experience as seamless as possible, we introduced a brand new Weavy account page where you can sign up for free and manage your account.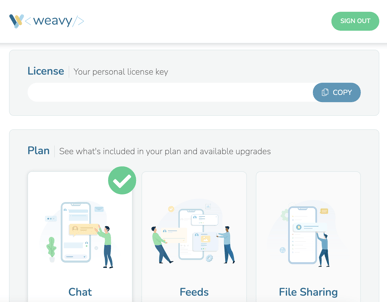 Should users want to upgrade their account to add Feeds or File Sharing, each available at $499/month, they can add their credit card and upgrade from their account page. But this wasn't the only change we made to help users get started with Weavy.
New developer resources
Weavy was founded by and continues to be led by developers, and one of our core missions as an organization is to give back to the developer community in as many ways as possible. That's why this year we launched three different initiatives to engage with and aid our growing developer community.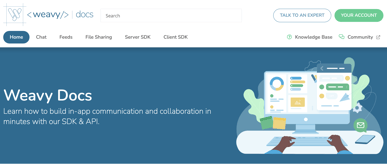 The first way was through our brand new Weavy Docs page, which we launched to coincide with the 2021 Microsoft Build conference (more on that later). Weavy Docs gives users step-by-step instructions on integrating Weavy into your app, from walkthroughs for deploying our Server and Client SDKs to in-depth tutorials on using Weavy with frameworks like Angular, React, and Blazor. For developers who want to play around with Weavy without having to tinker with their own app or build an entire app from scratch, we offer sample repos where you can integrate Weavy within a demo app environment.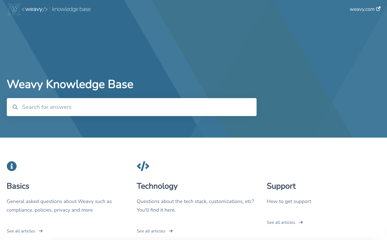 At the end of summer, we replaced our FAQ with the Weavy knowledge base, an ever expanding, fully searchable database of answers to common and uncommon questions that arise while working with Weavy. Members of our developer and onboarding teams are constantly updating the knowledge base with answers to questions that come from our customers and our community so that everyone can benefit.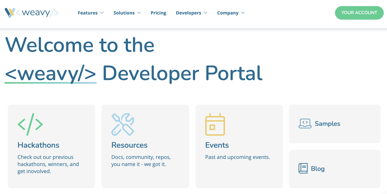 The final pieces of the developer resource puzzle came in the form of our Developer Portal, a one stop hub that connects developers with all our resources, including the docs site, technical blogs, hackathons, and our community forum. Our community forum, which we launched in conjunction with our Build Tomorrow Hackathon, is a place where our developers can meet, converse, troubleshoot, or just show off what they've been working on.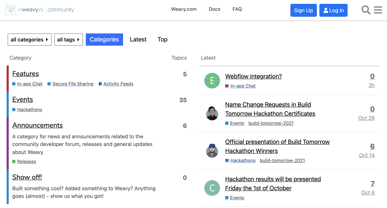 We had over 1400 developers participate in our most recent hackathon, so our team is hard at work preparing for the first of what we hope will be numerous hackathons this year. We're incredibly excited by our growing developer community and we can't wait to see what they do in 2022.
Weavy in the world
This year, we were pleased to form new partnerships and help spread the word about the benefits of in-app collaboration features. While Weavy has always had a great working relationship with Microsoft, we chose to take our partnership to the next level by becoming one of the sponsors of Microsoft's 2021 Build conference, their annual event for developers working in and around the Microsoft ecosystem.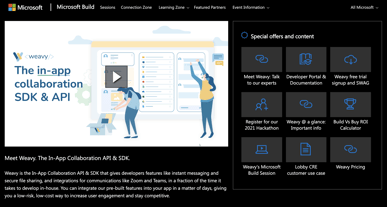 As part of our sponsorship, our CEO Rickard Hansson hosted an advanced session walking through how to integrate all of Weavy's features into a new or existing web app built with Microsoft's open source Blazor framework. We also decided to produce an additional six in-depth video tutorials with the help of UX Director Klas Jersevi, Senior Developer Magnus Krona, and Onboarding Engineer Dave Koncsol. You can watch all of our content from Build in the playlist below:
Rickard also joined developers Carl Franklin and Richard Campbell on the .Net Rocks podcast, where the three discussed contextual collaboration, the use of APIs within the .Net framework, and different approaches to collaboration in and out of apps. It was an incredibly fun, illuminating conversation and you can listen to it here.
Finally, we decided to reach out to our users to get feedback on their experience with Weavy and we were overwhelmed by the response. At the time of this writing, Weavy is officially a SourceForge Top Performer for Fall 2021, and we hold a 4.5 star rating on G2. Here's just a few highlights from our reviews:
"It is an amazing product, it pretty much saved me over 10K lines of code or maybe more!"
"Without Weavy, we would have spent a year to build this functionality and longer to maintain it."
"There's detailed documentation. Onboarding support for environment setup and initial usage is awesome! It works nicely out-of-the-box."
What's next for Weavy in 2022?
We have a lot planned for the coming year, more than we can cover in one year end wrap up. While we can't yet give more details, our development team has been hard at work on a massive update to the technology that powers Weavy. What we can share is this new update will bring Weavy from ASP.NET MVC to the new open source .NET Core framework. Bringing Weavy to .NET Core will enable our services to be deployed on more platforms than ever before. We're excited to become a larger part of the growing .NET Core developer community.