EVENT INFORMATION
---
Overview
Welcome to our latest hackathon Striking Balance 2022. Weavy has partnered up with Wijmo for a spectacular event with unlimited possibilities. This time around we're opening up for more creativity than ever before. Use Wijmo to showcase to the world what you think needs attention and collaborate on the solutions using Weavy.
Using simple systems thinking methodology we ask you to create something inspirational and help make a change where a change is needed! Put simply, systems thinking means that you look at parts as they make up a whole - in this case, how can you combine several issues, sources, and software to create a toolkit that solves those issues?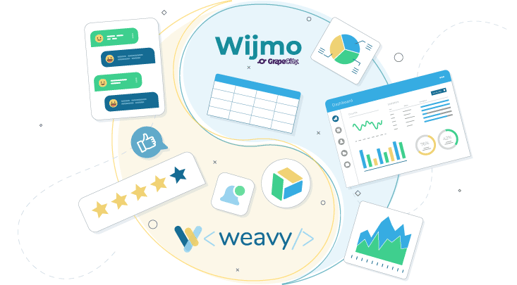 "The only difference between a problem and a solution
i
s
that people understand the solution."
News
08/01/22
We are opening up for complete open innovation! Dust off that old project you left on the shelf years ago and join the competition! The only requirement is that you implement one feature from both Weavy and Wijmo!
As an added bonus Weavy and Wijmo will award each approved idea submission with a 1 year license for both products! That's right, all you need to do is submit a valid project idea to be eligible! What are you waiting for?! Sign up, register your team and submit an idea today!
We are also happy to announce 3 new prize levels; Best Innovation and Best Product Improvement for both Weavy and Wijmo! That means 3 more teams will win a prize!
How do you strike balance?

Pick a topic (or many), we'll get you started with some sources for data sets, and by visualizing that data collaboratively using Weavy and Wijmo, you show us how you would approach solving for your chosen topics. On our topics page you'll find a few examples of topics to explore.


Structure
The hackathon will be played out in three parts:
Phase 01: Ideation phase
Phase 02: Prototype phase
Phase 03: Grand finale


Phase 01: Ideation phase
23 June 2022 - 16 September 2022
To enter the hackathon, you should start by selecting one or more topics that you feel are important to you. We have created a list of potential topics to serve as inspiration. These are listed on the topics page, along with public data sources you can use. All shortlisted ideas will move on to the prototype phase.
Phase 02: Prototype phase
17 September 2022 - 7 October 2022
Once you have selected your topics you should design and create a prototype that shows relevant data for your idea using Wijmo controls (such as chart, grid, map). When you have an app that shows the data in interesting ways, users will be able to use it and learn more about the problem, formulate relevant questions, and hopefully draw interesting conclusions.
When the visualization part of the exercise is done, you should add interactivity and collaboration using Weavy. This will allow users to communicate among themselves and share their insights without leaving the app.
At the end of this phase you need a working application, which must have integrated at least one feature from both Weavy and Wijmo to be eligible. The top 10 submissions will move on to the last phase.
Phase 03: Grand finale
15 October 2022
Teams pitch their project to an expert jury panel in a livestreamed event. The jury will consist of industry experts and innovators. 1st to 3rd place and badge of honor winners will be crowned during the event!
FAQ
Below is an ever-evolving FAQ that answers the most common questions. We'll update this as questions come in.
General questions
Does it cost anything to join?
Can I build my solution using other than .Net?
Weavy and Wijmo support most common frameworks. If you are unsure head over to our community page and we'll help you out as much as possible.
How do I get access to Weavy + Wijmo?
Check out the repositories above.
Team questions
Can I join alone?
Yes, you can participate alone or with up to 3 of your friends.
Do all winning team members receive a prize?
Yes, each participating team member receives one prize of their choosing. However, all team members need to attend the live finals to be eligible.
What do I do if a team member can't attend the finals?