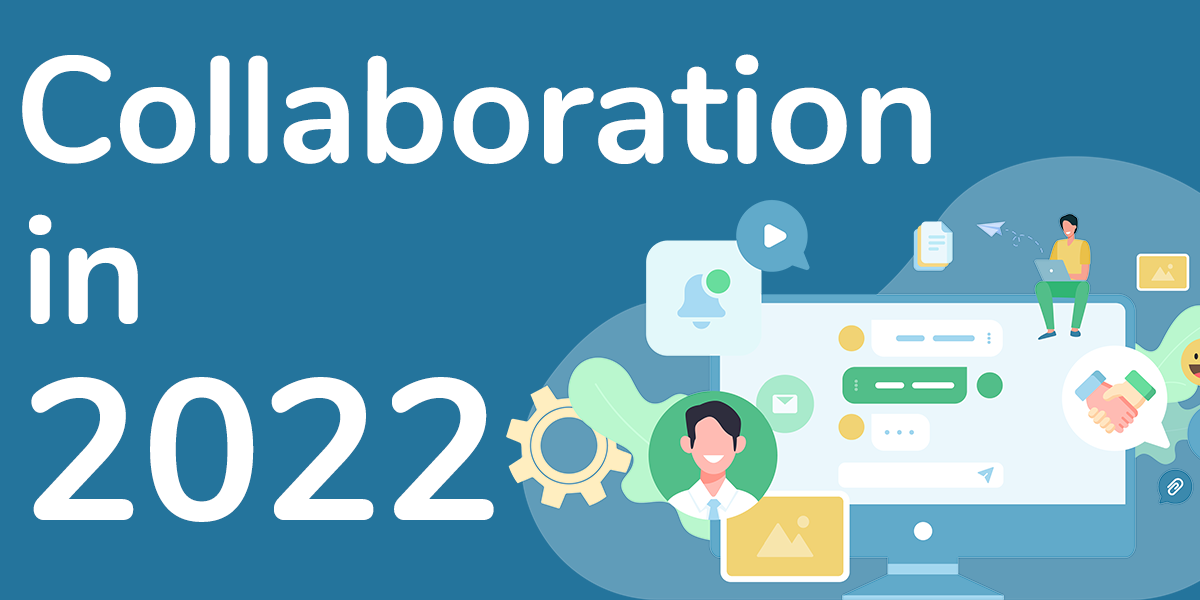 Last week, our team took a look back at 2021 and what it meant for us over here at Weavy. While we had a lot of fun announcements and changes, 2021 was also an incredible year for digital collaboration. So before we get fully into the swing of 2022, let's take a look at some of the biggest shifts in collaboration, and take a look at what is to come in our next go around the Sun.
Salesforce acquired Slack and… did what, exactly?
Way back in the dark days of 2020, Salesforce made huge waves industry-wide when they announced their purchase of Slack for $27.7 Billion, or roughly the market capitalization of Volvo. After a series of regulatory delays the deal was finally approved and closed in late June of 2021, when the companies announced via blog that their first effort would be Customer 360, a "digital HQ that enables every organization to deliver customer and employee success from anywhere." A few weeks later they formally announced some of the first integrations via livestream.

Many eager viewers like myself tuned in to see exactly what the team at Saleforce felt justified spending the price of Sweden's largest automaker and were surprised to find… not a lot. The biggest announcement was the introduction of Deal Rooms, dedicated digital spaces where sales teams can discuss a specific prospect and make updates to the CRM without navigating away from the discussion. If you're thinking this sounds awfully like a use case I outlined for using Weavy's Activity Feeds in a CRM, that's because it is. As Ron Miller at TechCrunch explained, the motivation was simple:
"The hope is that by taking advantage of Slack's ability to integrate external enterprise apps inside the application, working together they can find ways to speed up and automate various Salesforce tasks, making it faster and easier to use without switching context to make it happen."
Additionally, the companies announced a smattering of notification features and third-party integrations being brought to Salesforce through tighter integration with Slack. All sticker-shock jokes aside, Salesforce moving in the direction of contextual collaboration is a smart, forward-looking move that should and will be emulated by companies throughout the SaaS space. I would be remiss if I didn't note that these same moves could have easily been accomplished by integrating Weavy, which at the time of this publication would work out to be a cheaper deal for your first 28 million months as a subscriber.
Microsoft wants everyone playing on their Teams
While you were hopelessly trying to purchase an Xbox Series X, the gang at Microsoft made some massive changes to Teams, their enterprise communication platform. In May, just a week before their 2021 Build conference, Microsoft announced that Teams would be available to anyone with a Microsoft 365 account, not just business users. Along with this new shift they announced a suite of new "personal features" designed around bringing the benefits of online collaboration to your social life.
Beyond the expected group chats and video call features, Teams for friends and families gives the ability to create todo lists, delegate tasks, sync important documents like grocery lists or budgets. The hope is that these features can help streamline the home life, making your family or friend group a well-oiled productivity machine dystopian societal unit team, as well as letting everyone know grandpa's shame at yet again missing his deadline to fix the dryer. They also announced together mode, which is something.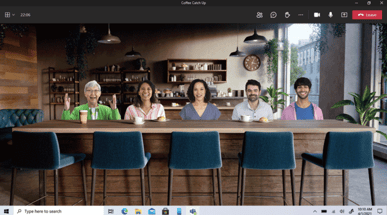 Not content to bring Teams into your home life, Microsoft also brought Teams to your operating system by making Teams chat a component of Windows 11. Starting with the public release of Windows 11 this past October, Teams for friends and families comes pre-installed on all Windows 11 machines. Additionally, Teams chat for personal accounts can be accessed at any time from a shortcut on the new taskbar. School and Business Teams users meanwhile can continue to user the Enterprise level application, which you can easily tell apart by looking at the completely different icons:

Though the difference between these icons may not be clear, it is obvious that Microsoft believes digital communication and collaboration are fundamental pillars of how users interact with their technology and each other.
Google takes the work out of Workspace
Perhaps taking a page out of Microsoft's book, or perhaps reading the same writing on the wall, Google made the shocking announcement that Google Workspace (formerly known as GSuite, formerly known as Google Apps For Your Domain) would be available for all Google account holders (also known as everyone) at no additional cost. This move gave the entire Google ecosystem access to enterprise level products like their video call platform Meet (formerly known as Hangouts Meet, not to be confused with the defunct Hangouts), and Google Chat, which finally brings Chat back to Gmail since the sunsetting of Hangouts two years ago.
Going beyond that, Google also laid out their vision for how Google Workspace will become integral to the hybrid work environment. This vision highlighted the collaboration features we've already known, loved, and even celebrated on this blog, such as in-app chat on Docs, Sheets and Slides, and user tagging and tag suggestions of your frequently tagged contacts, making it easier than ever to ask for feedback in a document. They also announced the creation of Spaces, where users can create collaborative spaces where they can chat, share files and communicate contextually around a specific project or campaign.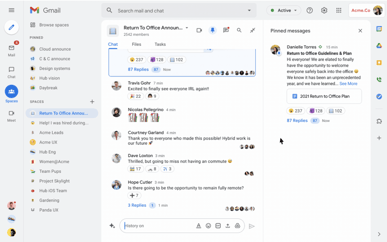 Spaces is an expansion of Google's seldom used Rooms feature, and is slated to roll out later this year to all users.
Looking forward to 2022
Despite the best intentions and the greatest of efforts, the storied and celebrated return to offices didn't exactly go as planned in 2021. While we at Weavy predicted early in the year that Hybrid work was here to stay, we had no way of anticipating the current global surge of COVID-19 and its latest variants. Regardless of circumstance, it has become evident that the bells of hybrid work and digital collaboration cannot be unrung.
Before this time next year you'll likely see dozens more productivity companies rolling out their own flavor of collaboration space. The other major players in the CRM space are going to take a much more aggressive approach to in-app collaboration, and I wouldn't be surprised to see Hubspot making moves to try and leapfrog Salesforce's collaboration features. They've already made steps like introducing a new @ mention feature in beta, which hopefully will become a full fat feature in the next year.
Predictably, search volume for online collaboration spiked dramatically in March of 2020 and has slowly leveled off month over month since, this isn't because interest has waned, it's because online collaboration became standard operating procedure. In the last year, searches for contextual software frameworks have risen dramatically. We've spent a lot of time on this blog educating people on contextual collaboration and the benefits of it, and I firmly believe that as this trend continues these ideas will become commonplace the same way online collaboration took hold in 2020.
The demand for in-app and fully contextual collaboration has risen in the last two years. In the span of twelve months, searches for cloud communication platforms went up by 34% on G2.com, and buyer intent metrics show 66% more companies are actively looking for cloud communication solutions like Weavy. This demand is only going to go up in the coming months, and you'll see that players at every part of the SaaS market are poised to announce the ways they intend to meet it. As the collaboration arms race heats up, one thing is for sure: whether working remote, in office, or a hybrid of the two, the future for collaboration looks bright.